Marvin's Legacy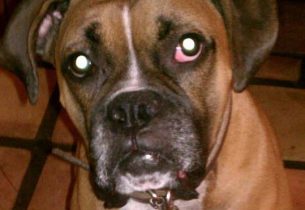 Marvin was a big, slobbery Boxer with lots of love to give. The 80-pound sweet pup was known for his affinity for attention and his big heart. That big heart gave out when he was just five years old. An unexpected heart attack left Marvin's family devastated at the sudden and unexpected loss.
Marvin's dad, author and former Orlando Sentinel columnist George Diaz, recalls rushing him to an emergency veterinarian in the middle of the night then watching over his wife as she held Marvin and cried, "You have so much to do."
Sadly, Marvin didn't make it through the night. But his mom was right, Marvin did have so much to do. He had been asked to serve as the honorary chair of the 2014 Paws for Peace Walk to benefit the on-site kennel at Harbor House's emergency shelter, a place that houses the pets of domestic violence survivors who are working to rebuild their lives in a safe place. Even though Marvin couldn't be there to walk the route with us, he remained the event chair, posthumously.
Today, Marvin's legacy lives on in the form of Marvin's Fund, a special fund designated for the medical expenses of animals in our kennel. Many of the pets that come to Harbor House with their people have injuries inflicted by the same abuser and often are not up to date on their vaccinations. Marvin's Fund guarantees that these pets are restored to health and given a chance at a peaceful future.
As for George, he still loves dogs. Addie and Hoochie are currently serving as spokespets with George for this year's Paws for Peace Walk. George says, "Pets are family. They deserve safe haven from abusers, even as they are often used as leverage in abusive relationships. We will walk to honor all survivors – including our four-legged furry friends. Please join us in the fight."
You can help by walking with us on April 20 at Blue Jacket Park. Get more information on the walk and register at www.harborhousefl.com/paws. Or give to Marvin's Fund at www.harborhousefl.com/donate/ and select Marvin's Fund from the drop down menu.