Starting Over after Abuse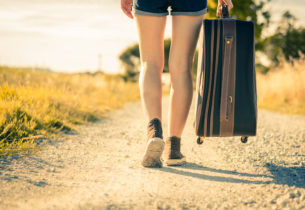 Starting over after domestic abuse is similar to walking down a winding road with a few stops along the way.
The first stop is a grungy bar/diner where patrons and employees alike ask why you're alone. As this is the first stop, you are high-strung and defensive, telling them to mind their own business and that you enjoy being alone. Reality is how scared you are that you may be followed and you're constantly covering yourself up to cover the bruises.
The second stop is a courthouse with one option: civil matters. The well-meaning people inside are telling you to file a restraining order, and oh yeah, there are five different types. Good luck figuring out which one fits best. "Should I write down the time they threw a cup of coffee at me?" "Do I need pictures?" "Will this work or am I wasting time?" "Uh, oh! They may be following me and see I came in here!"
The third stop is the home of a long lost friend. They were your best friend since childhood but you've lost touch and you are hoping they will forgive you and give you a place to sleep and a hot meal. But after all the times they tried to help you and you pushed them away, you're not sure they will even answer the door. "Is my abuser behind me? Do they now know where my best friend lives? Have I put lives in danger?"
The fourth stop is another courthouse: this time for criminal prosecution. Your abuser had gone too far and is in jail for the night. "Should I attend the bond hearing to get them out of jail?" "Do I need to pay for a criminal attorney now because my civil attorney doesn't do criminal cases?" "What if I ignore this stop – will I be under criminal charges?"
The fifth stop is an elementary school so you can see your two young children. The principal and guidance counselor come out first with concerns about your children's behavior. One is acting out and the other has stopped talking to anyone. "Are you getting a divorce?" "Where are your children living?" "Are your children being abused?" "Maybe we need to get DCF involved…"
You run outside for air, your mind swirling around. "Divorce? That costs money!" "Where are my children sleeping? I don't even know where I am sleeping!" "DCF?! Please don't take my lifeline, my children, away!" "How many attorneys do I need to get away from domestic abuse? Civil, criminal, and family…any others?" "Maybe I should go back home. I can handle the abuse and all of this uncertainty will go away."
In the distance you see one more building. It's a domestic abuse shelter where you are welcomed with open arms and given beds for you and your children. In the morning an advocate listens to your story and suggests free counseling and legal help. The advocate lets you know the shelter is more than simply a safe place to temporarily stay. It is a place of hope and healing.
You may have entered a victim, but you will leave a survivor.
Authored by Lynn Penyak
Community Education and Training Coordinator
Harbor House of Central Florida